Sunflower Design - #97333

Sunflower Style on small black square frames are embellished with 67 individually applied yellow gems and two yellow Sunflowers with green gems centers. The side arms are also embellsihed with yellow gems. These glasses will seriously sparkle!  Your dog will be the center of attention when wearing his/her own customized pair.

The sunglasses are made of black plastic.  There is a clear jewelry cord tied to the end pieces to keep the glasses on your pet. The glasses measure  3 1/4 inches wide by 1 inch tall.

REGULAR PRICE: $24.95   SALE $19.95

772-291-8101

www.BarkAvenueFashions.com

email:yorkierescue@yahoo.com

A Speciality Shop for the Yorkie Lover

All profits are donated to Florida Yorkie Rescue

*Please note ~ You pet should never be left unattended while wearing these glasses. They should not be worn for long periods of time. The small embellishments can be a choking hazard and since dogs sometimes chew, you must use great care that they are supervised at all times. Use caution that the pieces glued to each design does not end up in your pet's eyes or mouth. We recommend that our glasses be used for photo shoots, runway modeling or short socials. We accept no responsibility for any injury caused by your neglect.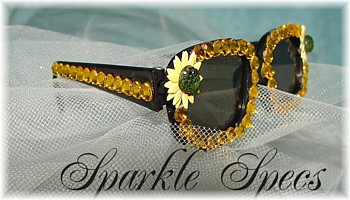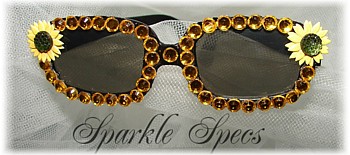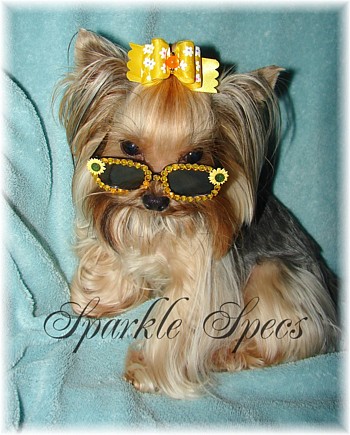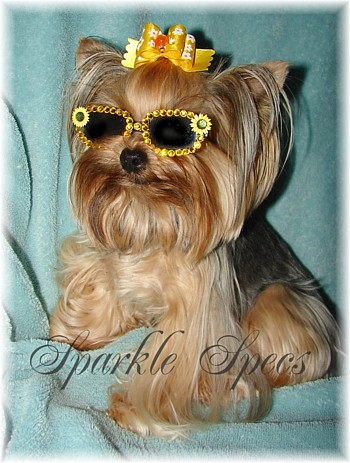 Our little Diva yorkie is named Cupid and she LOVES Sparkle Specs....