ALL PHOTOGRAPHS ARE COPYRIGHT PROTECTED



Bumblebee Theme  -  #97273

The sunglasses are made of black plastic. The lenses are black as well. The frames are squared shaped and more masculine looking. There is a clear jewelry cord tied to the end pieces to keep the glasses on your pet. The glasses measure  3 1/4 inches wide by 1 inch tall.
Click here for full measurements.
*Please note... each pair of glasses might vary slightly depending on what materials we have.  If you have any questions, please email us.

772-291-8101

www.BarkAvenueFashions.com

email:yorkierescue@yahoo.com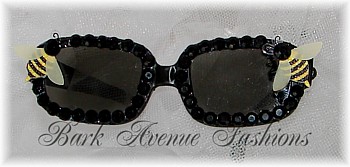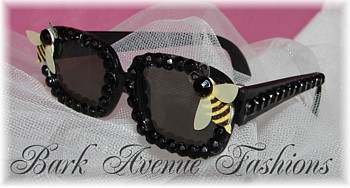 *Please note ~ You pet should never be left unattended while wearing these glasses. They should not be worn for long periods of time. The small embellishments can be a choking hazard and since dogs sometimes chew, you must use great care that they are supervised at all times. Use caution that the pieces glued to each design does not end up in your pet's eyes or mouth. We recommend that our glasses be used for photo shoots, runway modeling or short socials. We accept no responsibility for any injury caused by your neglect.